Shaw & Sons offer a traditional hand-crafted binding service for minutes and records. Individual requirements can be met as regards style and materials to ensure that documents can be retained securely for posterity. Our council minute binding service represents particularly good value for money.
Options include quarter, half and full bound styles, gold blocking, marbled end-papers, sprinkled edges, reinforced and cut indexes, marker ribbons, etc. However, more modest specifications are also available that are especially suitable for those with a restricted budget, e.g. thesis binding.
To discuss your requirements and obtain a no-obligation quote, call Shaw's on 01322 621100.
Click on the thumbnails below to view some binding examples.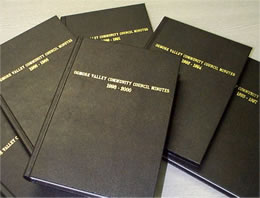 Restoration and re-binding
Shaw's service also covers the re-binding and restoration of all kinds of case-bound books and registers, whether single or multiple volumes.

Binding council minutes
For over 250 years, Shaw & Sons have been providing local authorities with a secure system for the binding of council minutes. For convenient long-term storage of your minutes, we can fasten your loose documents into book format and "bind" them into a hard-back case.
Our prices start from just £136.00 plus VAT for a single volume, full case-bound in buckram book cloth, including foil blocking of your council's details on the face and/or spine. Further foil blocking is available at additional cost.
Loose papers should be supplied in the order in which you wish them to be bound. A single volume of bound minutes will be created from a pile of loose papers not exceeding 40mm deep.
If you would like further details of this service, please call 01322 621100 - where one of our binding experts will be pleased to help you.
All parish councils have account facilities with Shaw's.